Organic Cotton
Organic cotton from pure nature that won't irritate your children's skin so they can put it on safely without any worries
3 innate organic colors that have been
passed down for thousands of years
Ivory | Brown | Green
We use only pure raw cotton without any genetic
mutations cultivated on soil that has been free
of pesticides and chemical fertilizers for 3 years
Soft texture that doesn't irritate the skin
Excellent absorbency and air permeability that ensures fluffiness and freshness
Natural moth repellent that gets rid of harmful insects, resulting in reduced allergic reactions
Can be reused as recycled cotton
Biodegrades after being discarded, meaning less harm to the environment
Organic Cotton Patent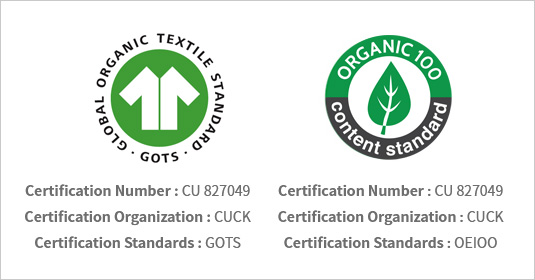 All of Bless Nature's products use eco-friendly organic cotton fabric that has been certified according to the GOTS and OCS which are international organic fiber certification standards.
In particular, receiving a GOTS certification requires over 90% organic cotton content as well as the fulfillment of certain social corporate duties such as wages, environment, labor conditions, and sanitation.
The certification takes place over a period of 1 year and covers the entire process
(seeds > cultivation methods > spinning > knitting and weaving > dyeing processing > printing > sewing), so customers can rest assured and trust in the safety of our products.